NatureKast company information
For many Millennia, wood has been the building material of choice for cabinet makers. Despite its great track-record, wood does not perform well outdoors, as many well-intentioned carpenters have discovered. NatureKast's story started with an idea born out of growing frustration with the lack of options for outdoor cabinetry, with the warmth and familiarity of wood. In 2005, all that changed when a beautifully crafted Cypress door was molded in high density resin. After much trial and error, a technique was perfected which captured the essence of the wooden door in a material that was fully weatherproof. It could also be hand-finished to perfection, using similar techniques to wooden doors.
NatureKast was formally registered as a company in July 2009, operating in Florida for the first few years, but quickly grew and needed to scale up operations. In 2015, production was moved to the facility in Canada in order to meet the ever-increasing demand.
NatureKast is sold through an active and expanding dealer network. The dealer footprint has grown rapidly across North America from 203 in 2015, 319 in 2016, 596 in 2017, 828 in 2018, 952 in 2019, 1,097 in 2020 and 1,249 in 2021. Currently we have over 1,300 NatureKast dealers.
Dealers can be found on our dealer locator.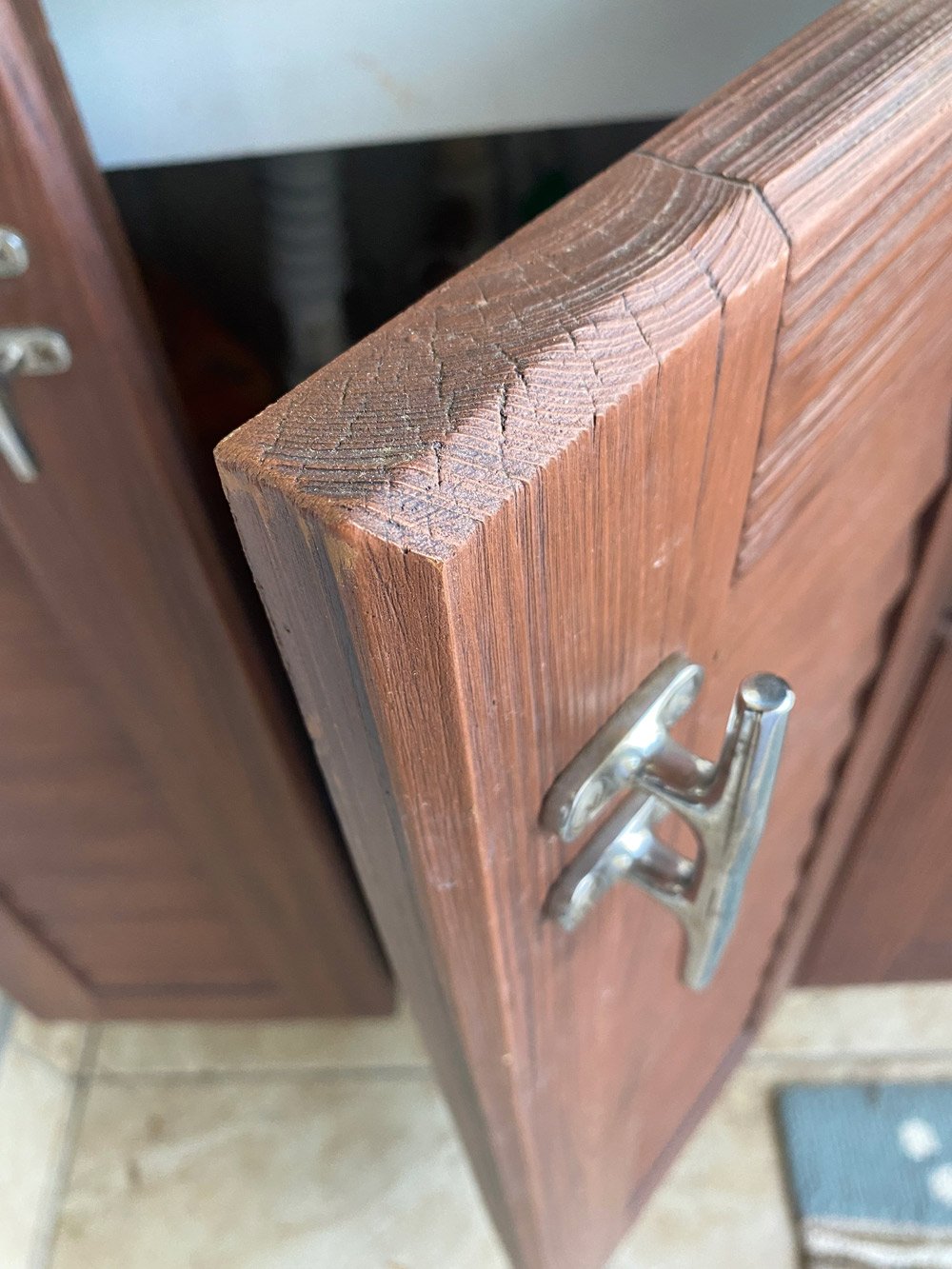 Picture from a 2007 installation.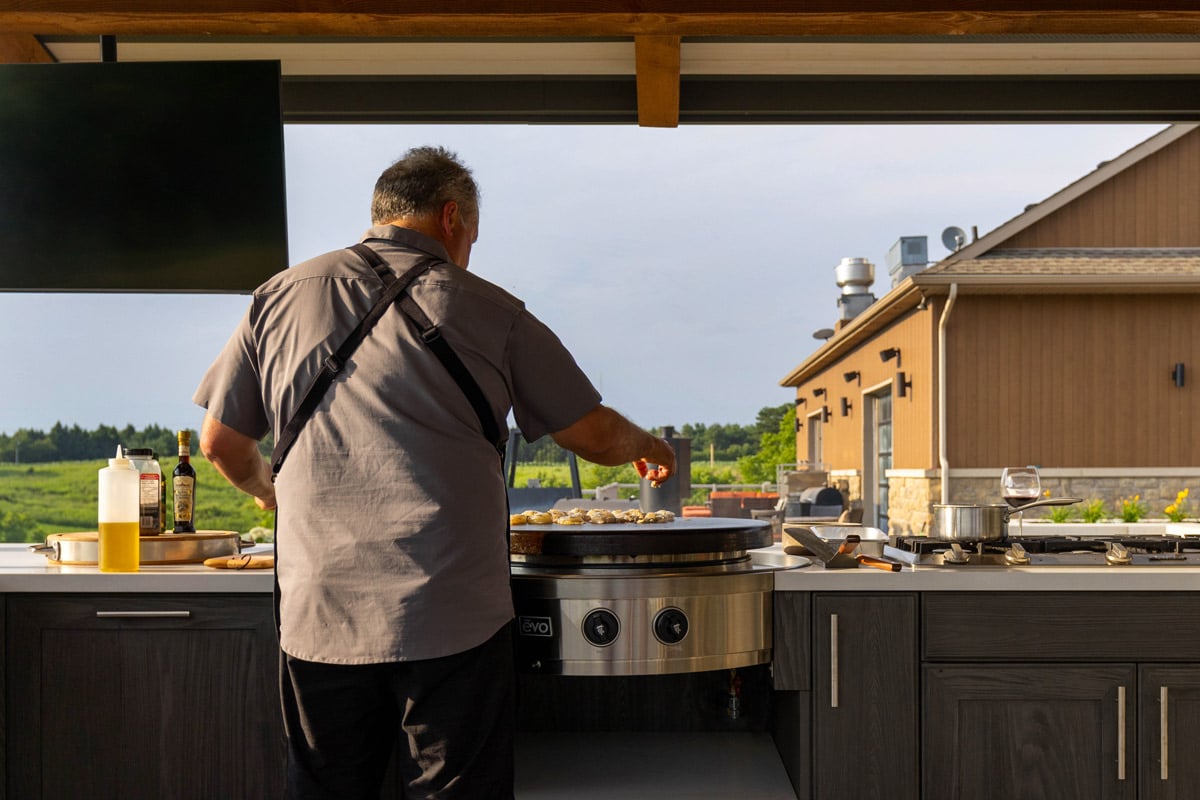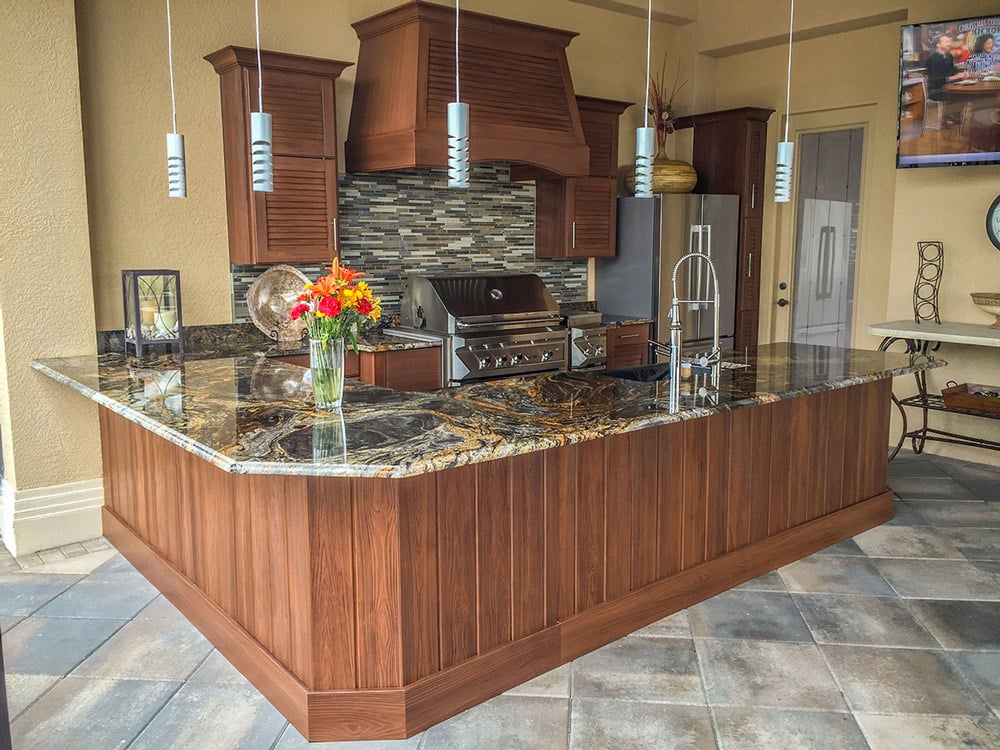 NatureKast product information
Expand your living space…
Homeowners are spending more quality time outside and investing wisely in their backyards. As a result, there has been great growth in new products and innovations. That's where NatureKast comes in. Discover the rich look of real wood outdoor cabinets without the constant maintenance. NatureKast has revolutionized the outdoor cabinet industry by offering the first range of 100% weatherproof cabinets that look and feel like high-end indoor kitchens, but built to withstand all the elements that nature can throw at them. Backed up by a limited lifetime warranty, homeowners can be certain that NatureKast cabinetry will last for decades.
With NatureKast, the need for masons or cumbersome and expensive stone work can be completely removed from the equation. Realistic panels resembling wood, stack stone, brick and coral stone plus molded items like corbels, trim and crown moldings bring design options that have previously only been available for indoor cabinetry. The product line is immense and includes a plethora of feature-rich base cabinets, grill cabinets, insert cabinets, ceramic grill cabinets, benches, hoods and even wall and tall cabinets. Innovative specialty cabinets are available for some of the big names in outdoor grills, cooktops, sinks and appliances. NatureKast also offers the industry's widest range of outdoor TV cabinets on the market, so outdoor televisions may be showcased in a custom-built TV cabinet that perfectly matches the other fine outdoor cabinetry.
Freedom of choice doesn't end with cabinet selection, but spills over into the distinctive stain, paint and designer weathered finishes and alluring door styles. With even just a little creativity in the design, the result can be a totally unique looking backyard oasis.
NatureKast is perfecting the art of outdoor living.
In print
Some recent articles and publications that have featured NatureKast:
Online articles & features
Some online articles that have featured NatureKast:
Trade Shows
NatureKast typically attends two trade shows annually.
In 2023 we will be at:
KBIS (Jan. 31 - Feb.2, Las Vegas)
HPB Expo (March 11-13. Louisville, Kentucky).
More information will be available closer to the shows on this website and social media.


Please see the teaser video from previous trade shows.
Brand Assets
Click button below to download. Assets will download in a compressed folder.
Copyright belongs to NatureKast, our Dealers and Photographers. These images and brand assets may be used for editorial purposes and for marketing by our dealers and product partners. All other use requires express written consent from NatureKast.